Home
Talk

8
99pages on
this wiki
"The System Holds Justice at Gunpoint..."
...in a time and place when someone's criminal potential and personality can be decided by a machine. This is the premise of Psycho-Pass.
Synopsis
The series takes place in the near future, when it is possible to instantaneously measure and quantify a person's state of mind and personality using hand-held technology. This information is recorded and processed, the result being an individual's Psycho-Pass, or level of criminality. The story centers around the young and idealistic Akane Tsunemori, a newly ranked Inspector assigned to Unit 1 of the Ministry of Welfare and Public Safety Bureau; Season 1 follows her first year on the job.  Season 2 continues Tsunemori's development as a law enforcement officer and human being.
Characters
Featured Article
Nobuchika Ginoza
Nobuchika Ginoza is an important supporting character in Season 1 and the hero of Season 2. Whien he is an Inspector, he's quite nervous, cold-faced, but his internal was soft. His hobbies are gardening, collecting coins and keeping dogs, and he is good at various kinds of sports. When his Crime Coefficient raised up after many tragedies, he was degraded into the rank of enforcer. However, he becomes relaxed, caring and wise, whom was described by Gen Urobuchi as "brisk latent criminal". He was also the earlist to enter CID and eldest member in the new Division 1 in season 2. The handsome man's new performance is expecting.
Featured Episode
Blood-Stained Reward - Season 1 Episode 21
Shogo initiates his plan to destroy Japan's main food source. Meanwhile, Shinya is trying to find a way inside the factory, but notices that there is security everywhere. He hears a helicopter coming and turns only to discover that the MWPSB Unit 1 are on their way. Shinya seems surprised by this and calls Akane, telling her to shut off the main power source so that Shogo won't be able to continue his plan (which would turn off the security guarding the factory). Akane knows the real reason behind this, but they are forced to turn it off...
Featured Media
Featured Image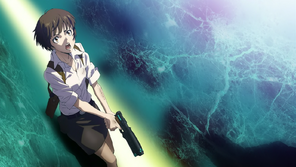 Main Page Poll
Which member of Unit One is your favorite?
Links
Twitter