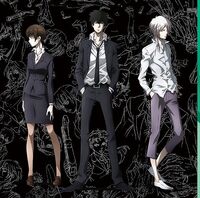 Psycho-Pass Original Soundtrack is a two disc album which holds the entire soundtrack of Psycho-Pass. The limited edition contains an extra disc with credit-less opening and endings of the anime. Additionally, the original soundtrack has several goodies included such as a key holder, four cards, and a booklet with storyboard for the final episode. The tracks were composed by Yugo Kanno, EGOIST, Nothing's Carved in Stone, and Ling Tosite Sigure. It was released on May 29, 2013.
Listen
Ad blocker interference detected!
Wikia is a free-to-use site that makes money from advertising. We have a modified experience for viewers using ad blockers

Wikia is not accessible if you've made further modifications. Remove the custom ad blocker rule(s) and the page will load as expected.