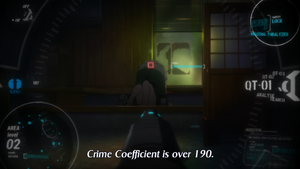 A person's Crime Coefficient is a numerical measure of said person's probability/propensity to commit a crime. It is one part of a person's overall Psycho-Pass. The MWPSB uses this measurement to determine if a target is a latent criminal or otherwise. It is calculated and determined by the target's stress level (Hue) and other biological readings via cymatic scan by the Sibyl System.
Level of Crime Coefficient
Under 100 ‒ Suspect is not a target for enforcement action. The trigger of Dominator will be locked.

100 to 299 ‒ Suspect is classified as a latent criminal and is a target for enforcement action. Dominator is set to Non-Lethal Paralyzer mode. Suspect can then be knocked out using the Dominator.
Crime Coefficient Records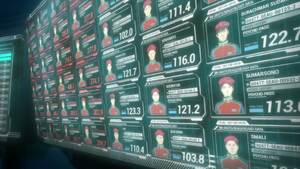 References
Ad blocker interference detected!
Wikia is a free-to-use site that makes money from advertising. We have a modified experience for viewers using ad blockers

Wikia is not accessible if you've made further modifications. Remove the custom ad blocker rule(s) and the page will load as expected.