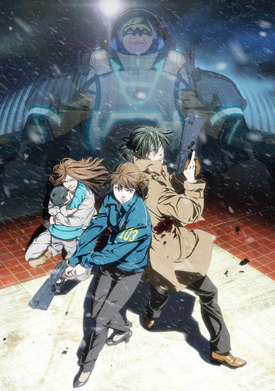 Case.1 Crime and Punishment is the first installment of the Psycho-Pass: Sinners of the System trilogy.[1][2] The release date is January 25, 2019.[3]
The movie will focus on Nobuchika Ginoza and Mika Shimotsuki.[2] Their case will lead them to an isolation facility in Aomori-ken.[4]
Synopsis
In the Winter of 2117, an out-of-control vehicle careens into a building. The driver is Izumi Yuzaka, a psychological counselor at the isolation facility for latent criminals in Aomori prefecture (the Sanctuary). However, Yuzaka's immediate repatriation in the fading night is decided right before the interrogation. An inspector heads for Aomori prefecture for Yuzaka's repatriation, along with an enforcer. Waiting for them there is a "False paradise."
References